To see detailed comparisons between ARIA and Venice, please use the archives navigation on the right hand side of the screen.
Been a bit busy in life and my laptop having problems have slowed down the blog. Day 3 will be up "soon".
April 02, 2008
A 7:20am start to the day, with sandwiches made for breakfast. Then we took the first boat to Venice at 8am. Going into Venice by boat gave an extremely euphoric feeling and felt totally different from the bussing we did the previous day. The boat was simply fantastic as we were surrounded by the charms of Venice, away from "civilisation".
We arrived at Zattere at 8:25am and the city felt very different from the previous day. It was the complete lack of tourists. A very quiet scene with locals doing their own business. What a great feeling. We sat down at the public benches at a Campo to appreciate the scene, while we munched down our breakfast sandwiches.
Here is our walking route for day 2. RED -> BLUE -> PINK.
http://img.photobucket.com/albums/v390/a340_313x/ARIA/day2map.jpg
We soon arrived at the
Accademia bridge
, which I think is the prettiest of the four bridges across the Grand Canal, as we made our way to Piazza San Marco.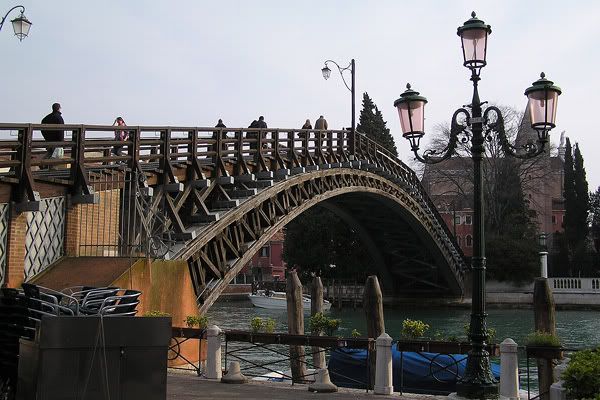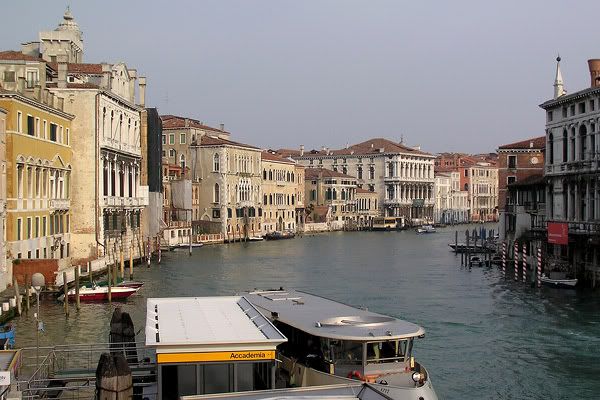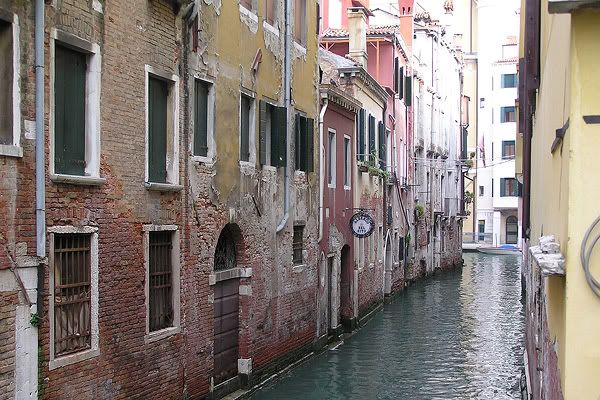 We reached
Piazza San Marco
at around 9:20am. There were very few people around. We peeped at the Florian and then the
Campanile
. €8 to go to the top, wow. Queue? What queue? There was none!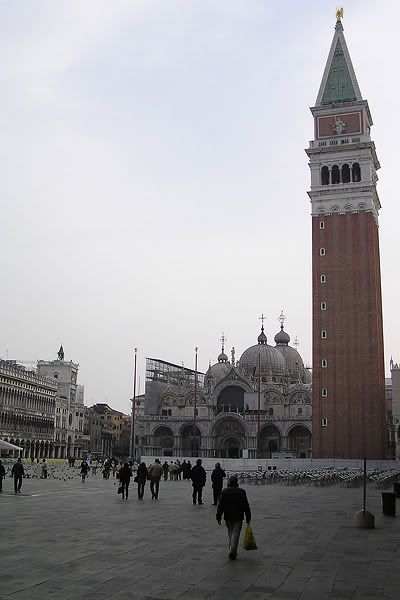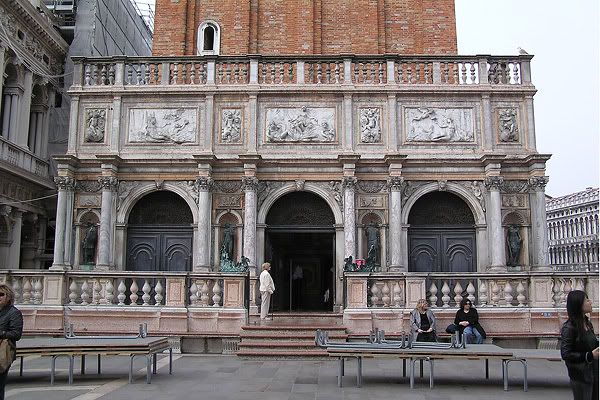 I paid up and boarded the elevator up, ironically made by a company called
SCAM
- and I sure felt scammed...until I reached the top.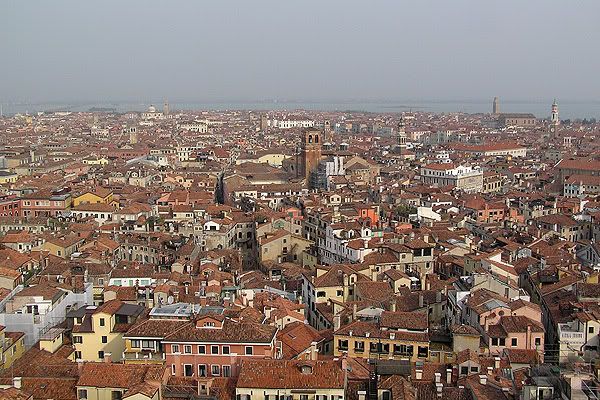 In the picture immediately below, I noticed a certain landmark that I didn't do any research on, but appeared in ARIA. I took note of the compass direction for later reference. Can anyone spot what it is?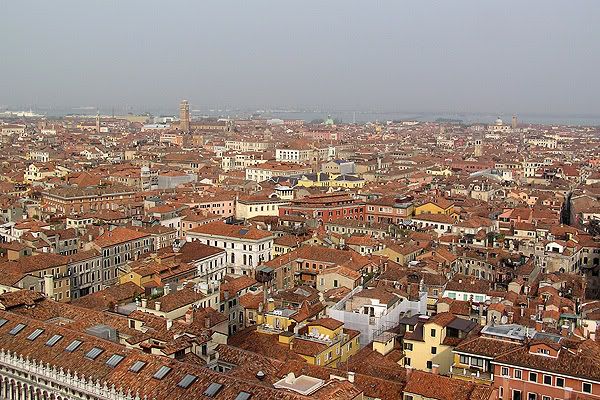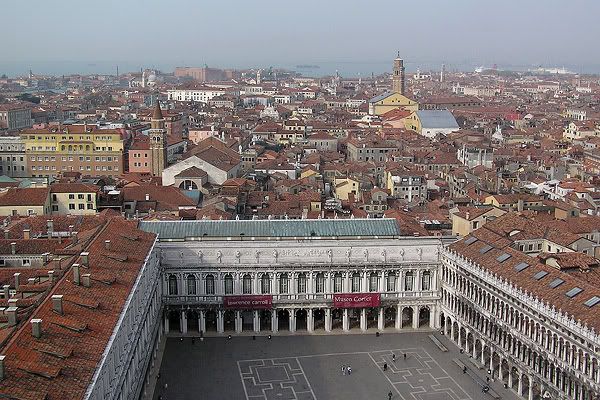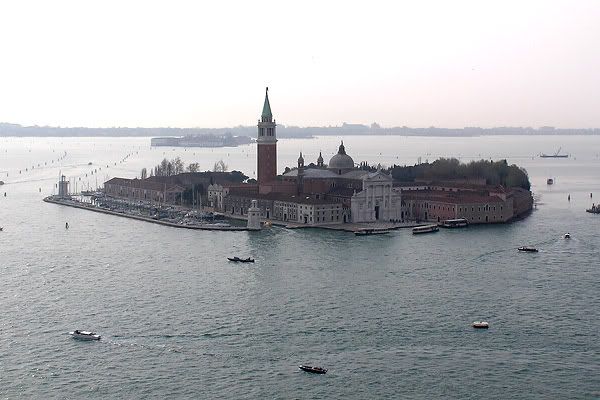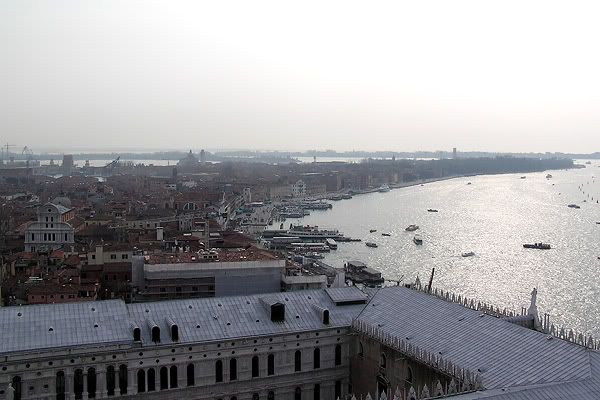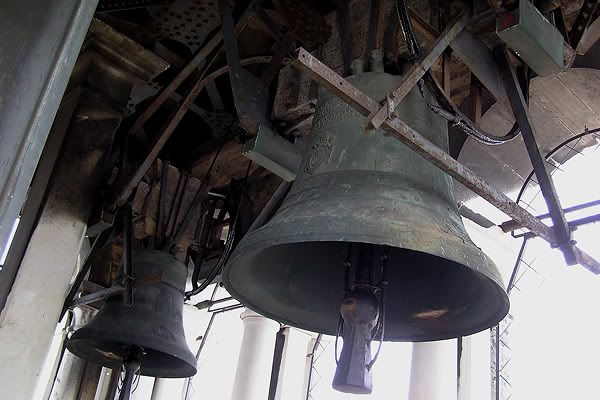 It was worth every cent. The view was breathtaking - just totally unbelievable. Absolutely suteki...marude mahou mitai (it's like magic) - Hazukashii Serifu Kinshi!!! I was simply lost for words. The day had started well, and the Campanile was definately was a turning point in my feelings for Venice.
I spent around 30 minutes up there and afterwards, went back to the
Caffe Florian
to get some Caffe Latte. My mum ran some "value for money" calculations and decided to get a full breakfast for €30 or so with Coffee included, since Caffe Latte by itself was already €10.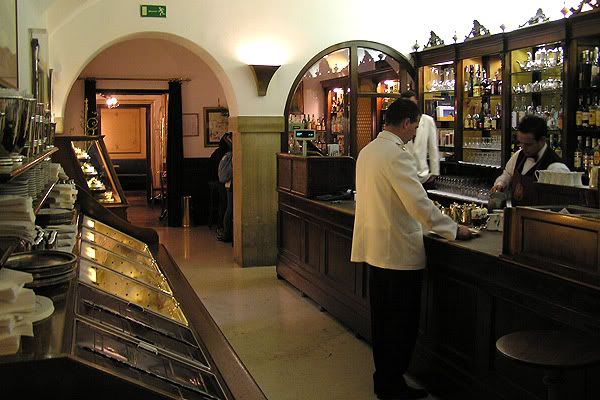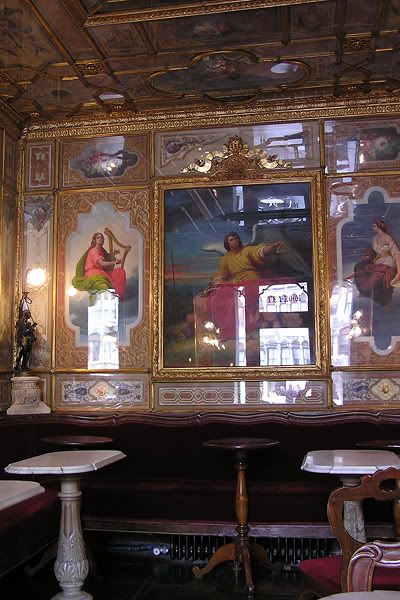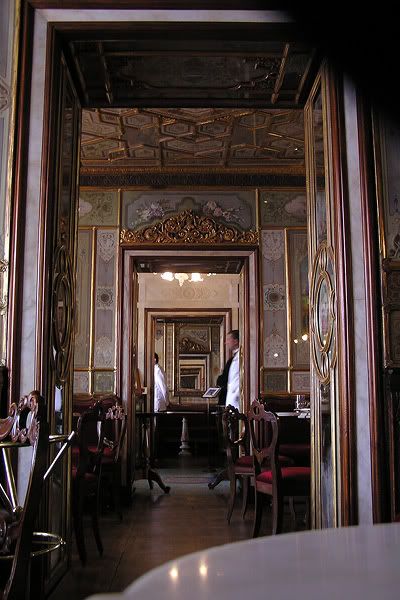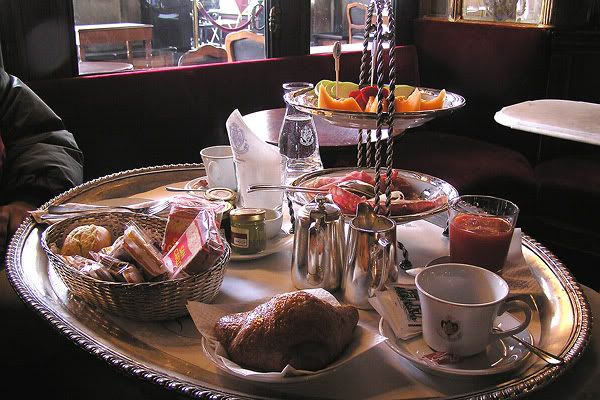 The food was amazing, and came with lots of goodies. It seems you do get what you pay for and therefore, this meal despite being the most expensive in my entire life, was not a ripoff. Now, I love my food and this experience was quickly transforming my impressions on Venice. The inside was extremely pretty with art even on the ceilings, and the Bose speakers were playing soft Italian classical music. The volume was just right, giving a perfect atmosphere.
The Caffe Latte, much talked about in ARIA and it was extremely good. The Italians seem to like their coffee warm, rather than hot. While I'm no coffee expert, the Florian coffee had a rich taste and an aftertaste.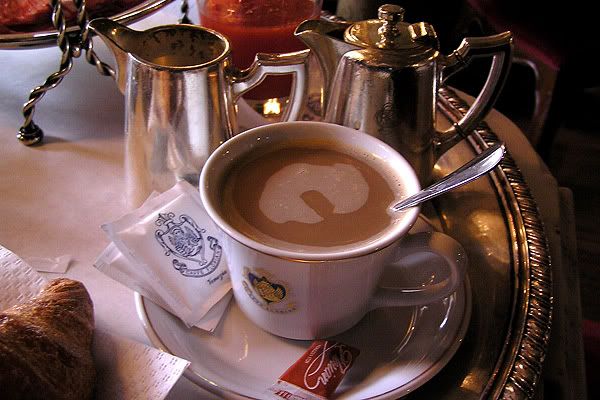 The Florian was so memorable that I snagged as many souvenirs as possible. Sugar, fruit picks, paper napkins and also sneakily snatched the cloth napkin -
my mum suggested the last one!
It was 12pm when we started to make our way out of Piazza San Marco. We had been here for almost 3 hours and the bells of the Campanile were ringing to mark the midday.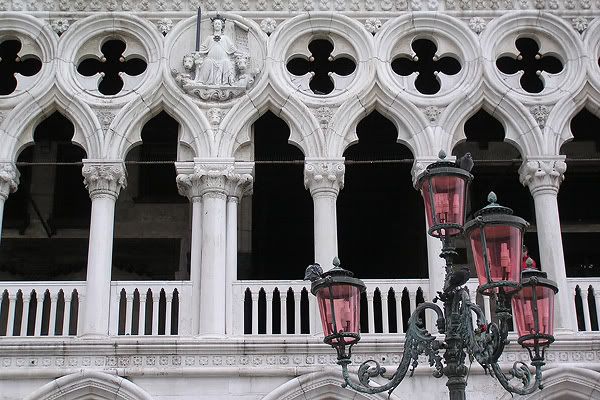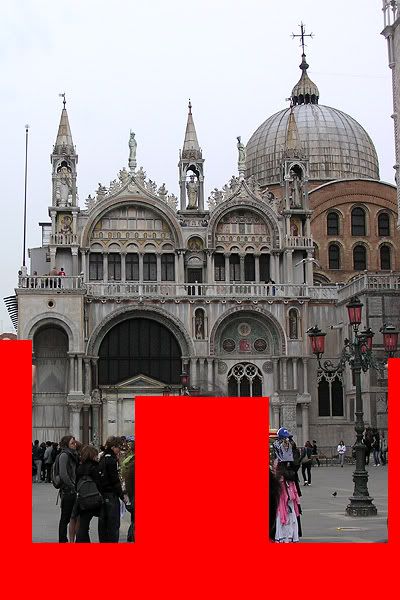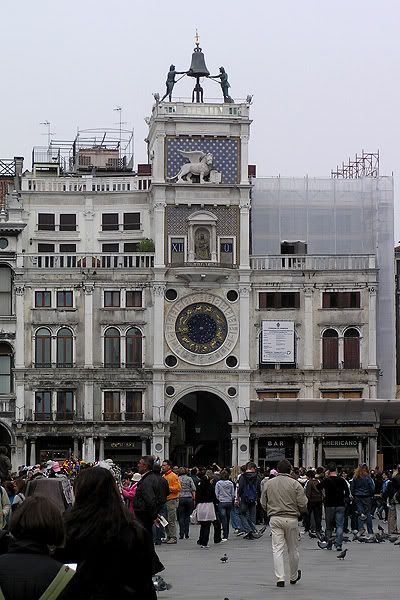 The waterfront promonade had stalls selling artists' own paintings of Venezian scenery. There were other souvenir stalls, as we went past the
Bridge of Sighs
.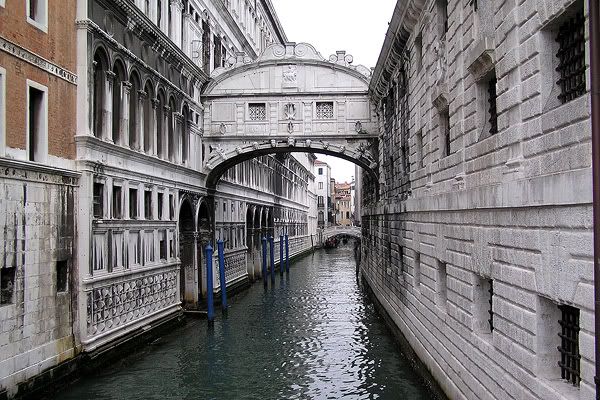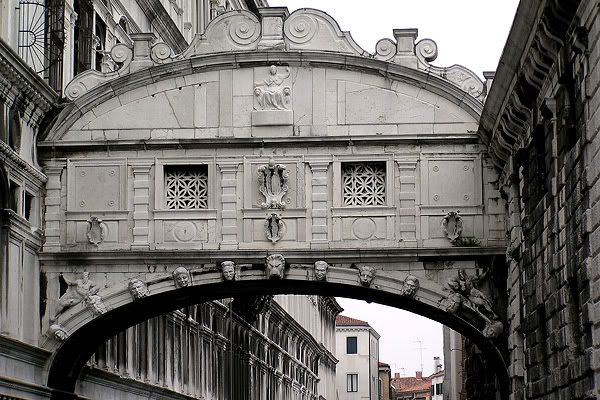 I had already worked out the approximate location of
Himeya
but walked right by it without noticing! I did notice a little later on, which meant I had to double back around 300 metres. I took a crappy picture of the front that day, which got deleted to create free space in my 256meg card - after getting a better picture the next day.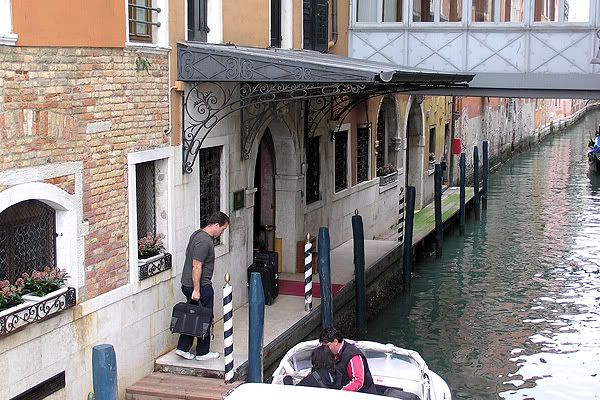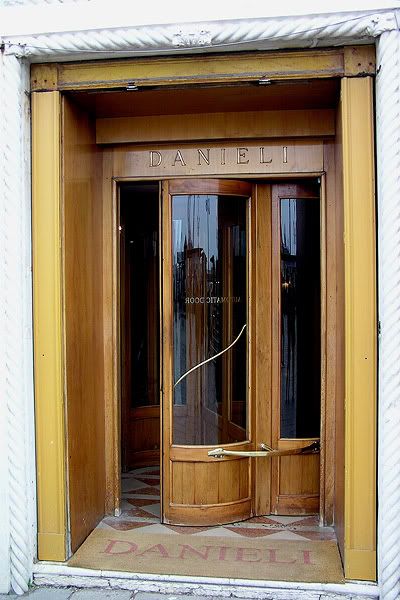 We proceeded Eastwards again towards some parkland I spotted on my map and went past a leaning tower...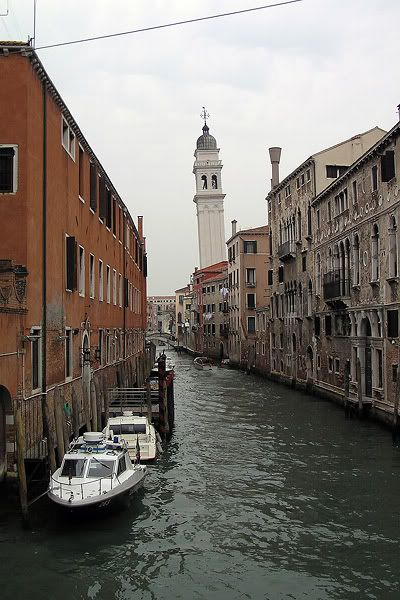 ...until I reached the most likely location of
ARIA Company
- the Arsenale Vaporetto stop.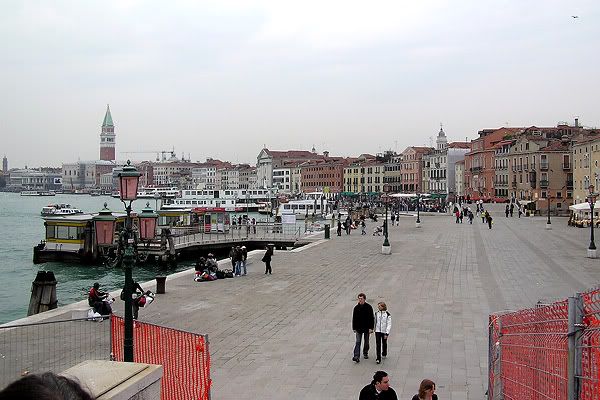 We soon arrived at
East Castello
, which later turned out to be the main focus of the DVD-only Origination Episode 5.5.
This turned out to be my favourate area in the whole of Venice as it was a place where hardly any tourists went to. It was a totally local slice-of-life experience. We went into a shop and my mum wanted "biological yoghurt". A litre of it. I haggled her down to 500ml, as yoghurt is heavy stuff to consume! Upon consumption, this "yoghurt" turned out to be
full cream milk
! The best milk I've ever had in fact! Milk is a must buy in Venice - and make sure it's
freezing cold
!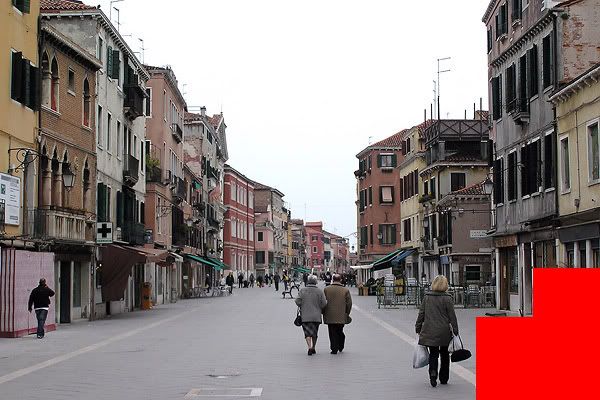 A
floating market stall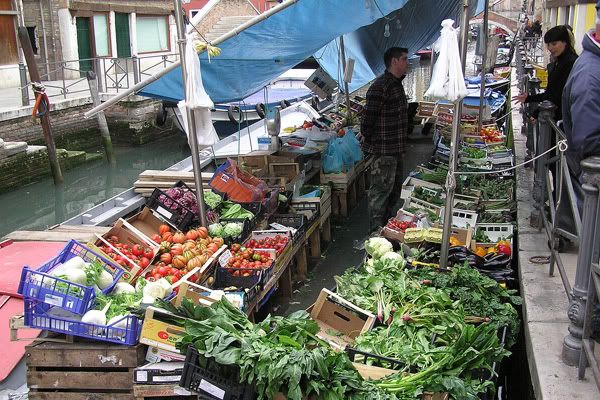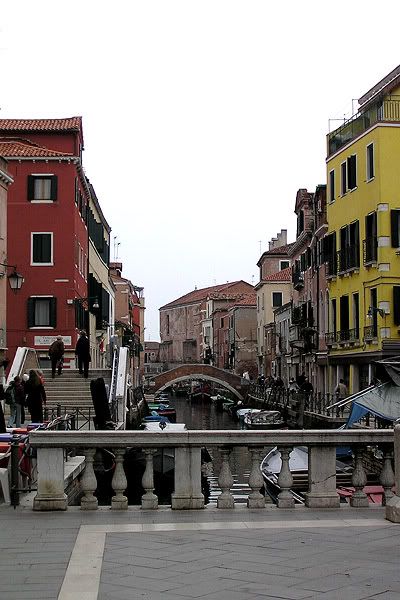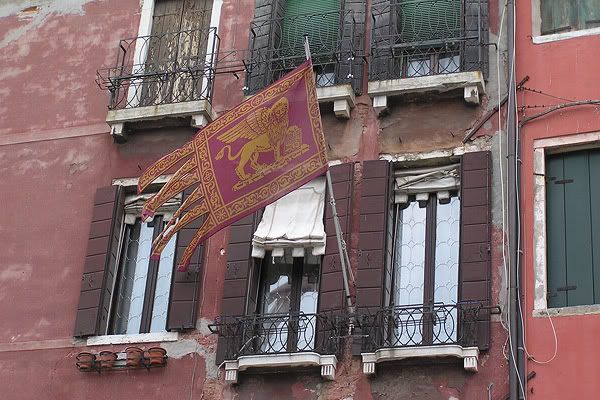 We went through a tree-lined path, back to the coast. A possible inspiration for
Origination ep09
?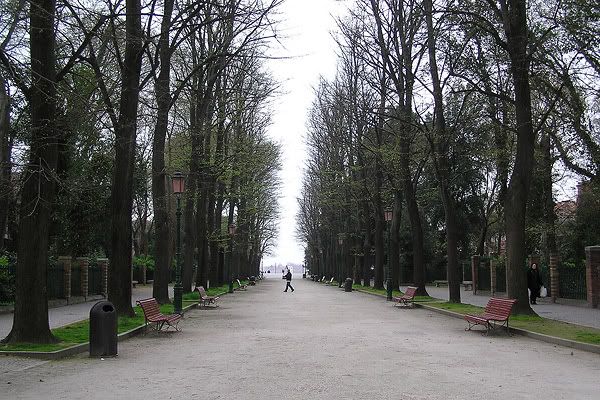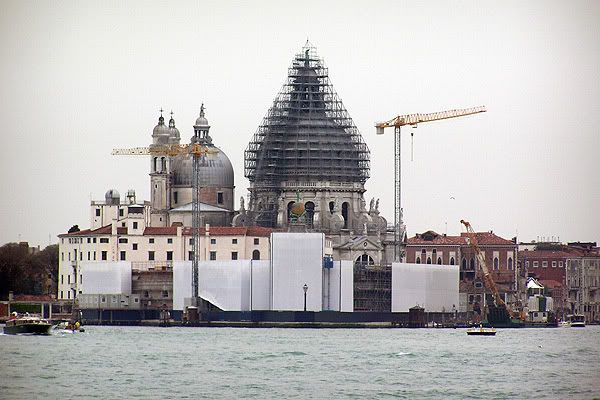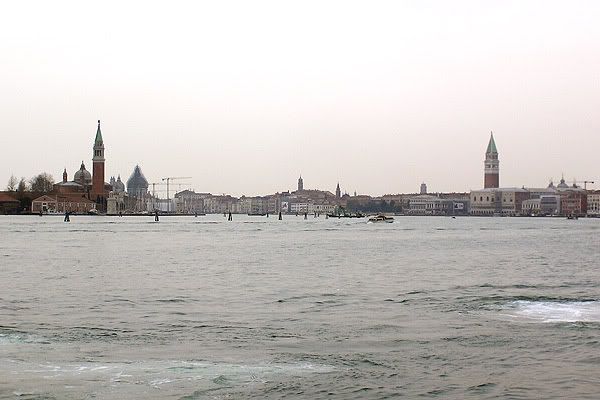 After walking by the "public gardens", we went back into the peaceful alleys.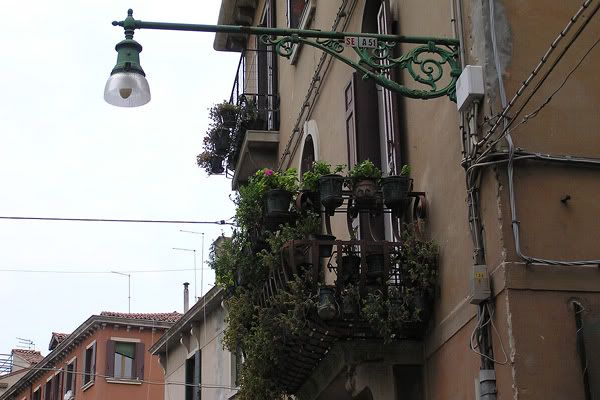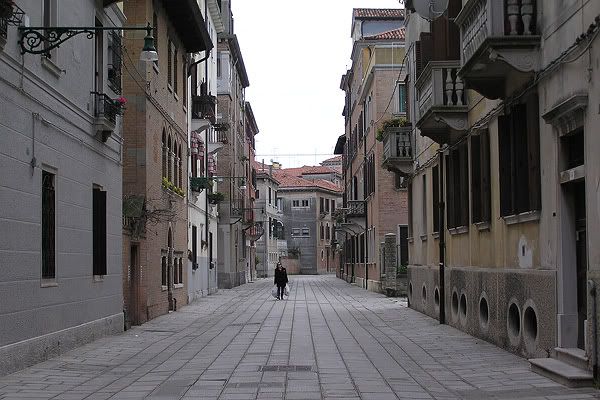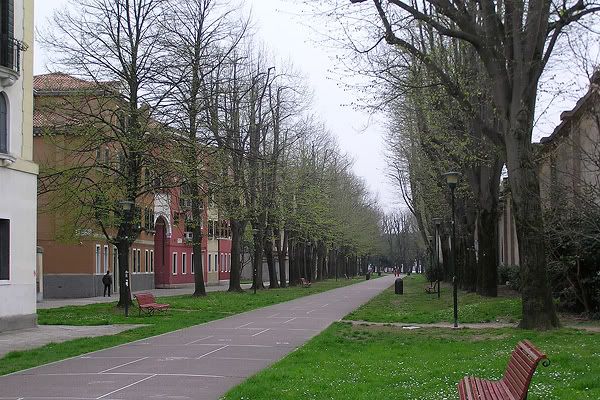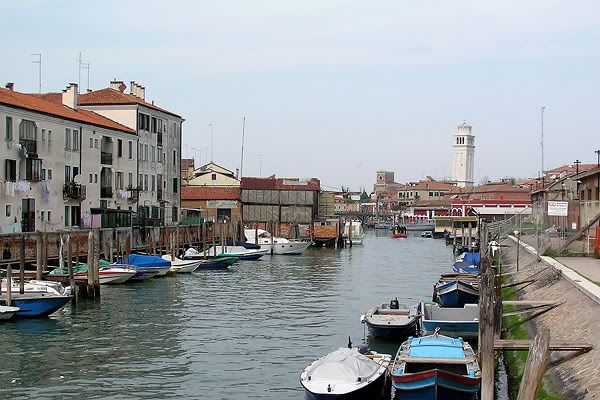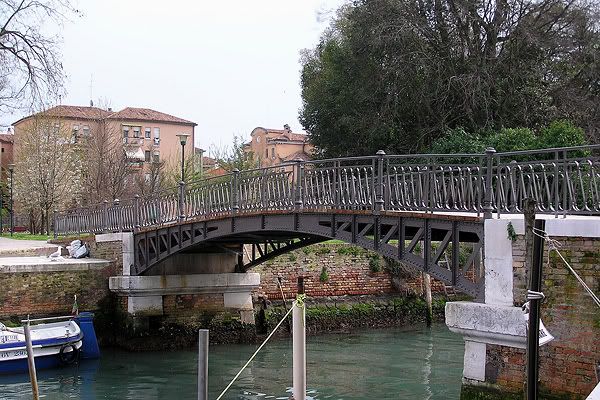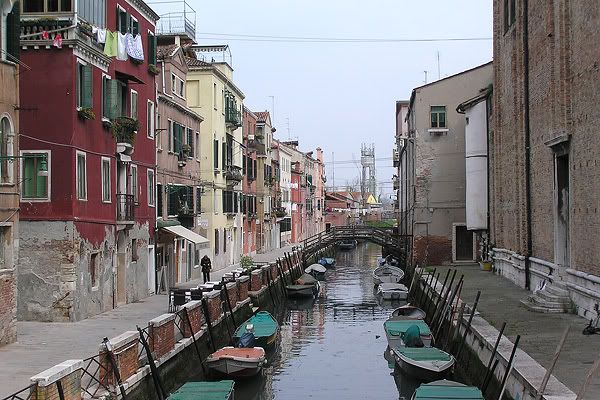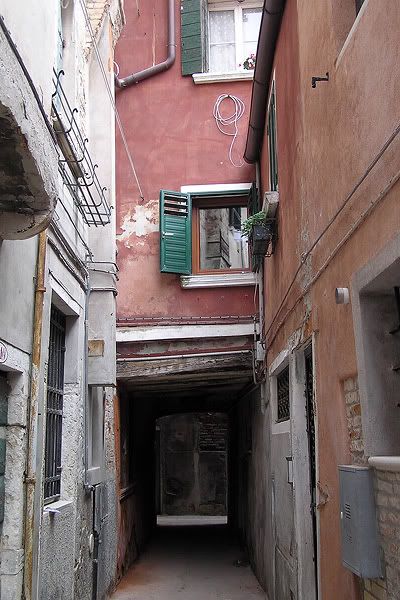 The
entrance to the Arsenale
. We decided to sit down at the benches here to have lunch - sandwiches with jam from the Florian!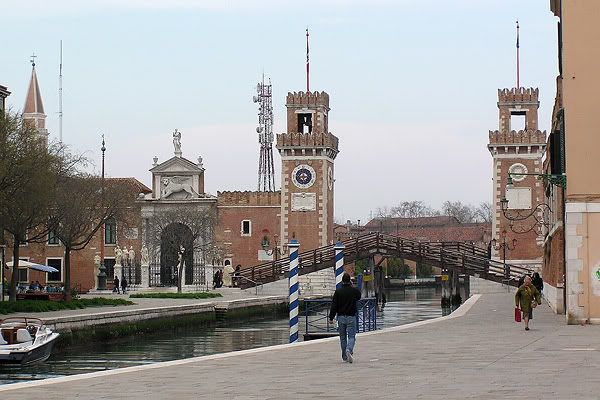 The symbol of Venice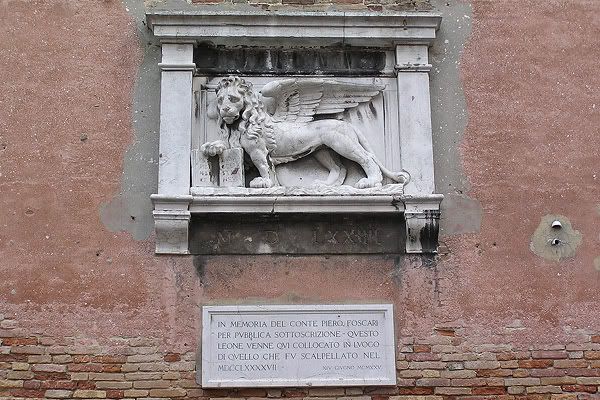 Laundry
!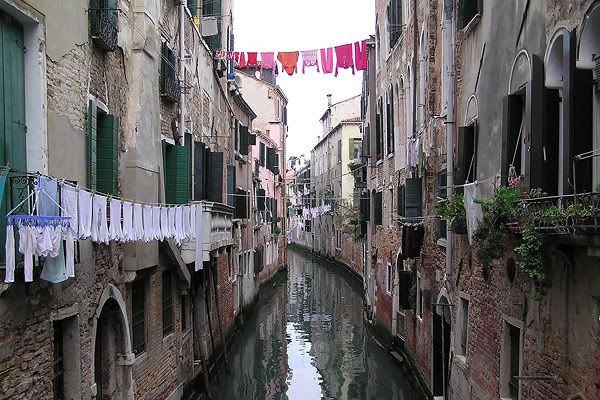 More walking...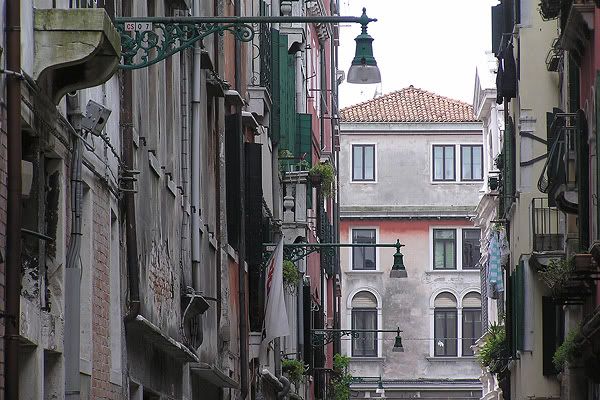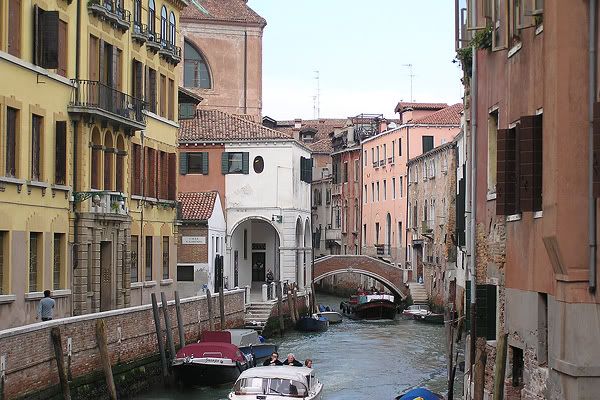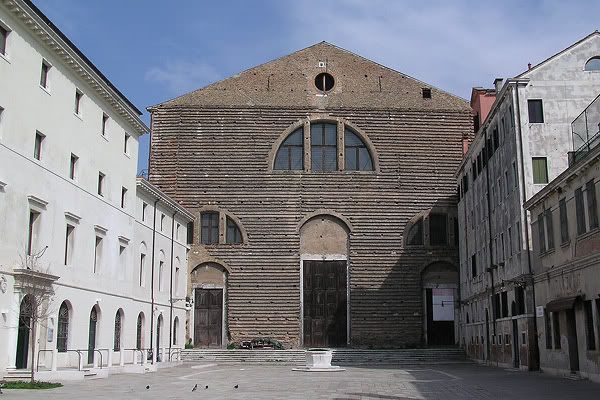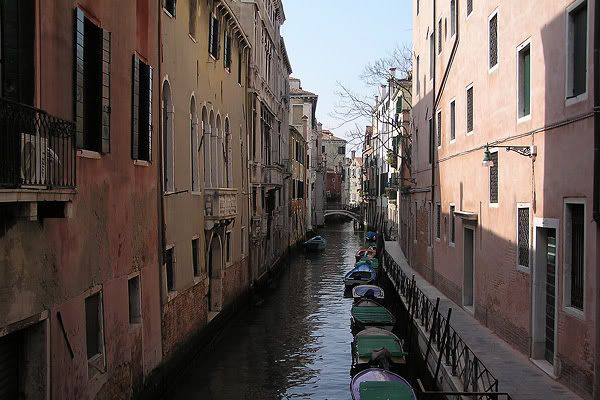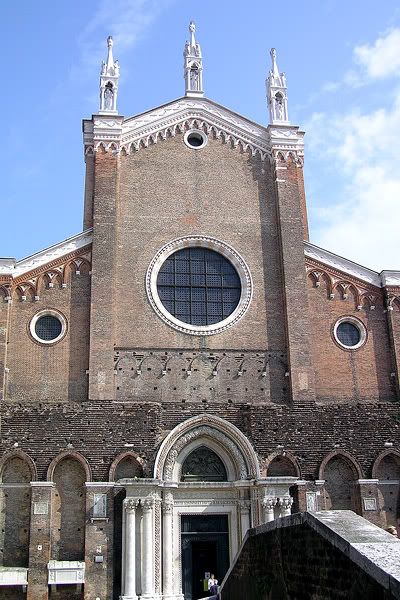 Taken from the Northern promonade. I went all the way up there to investigate possible locations for
Orange Planet
to no avail.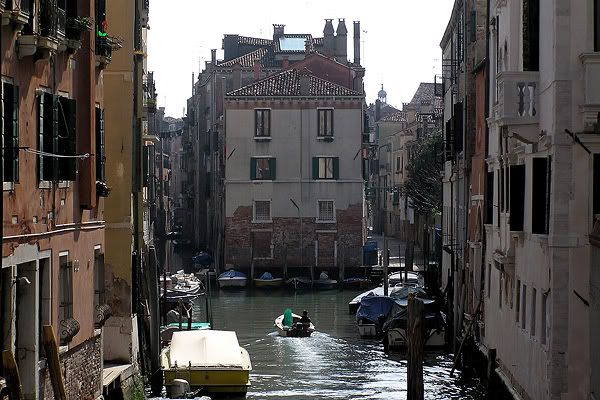 We then looped back to Santa Sofia, and did some more alley exploring until we realised that a thunderstorm was bearing down on us. This is when I did some calculations. A typical storm rainfall is 30mm an hour. Venice gets 50mm
a month
. I gambled that the rain would last 30 minutes at most, and legged it all the way to Piazza San Marco for shelter.
We stuck around the Florian, listening to their music for free - supposedly worth €6. It may have been the weather but the violin was terribly out of tune. It started raining cats and dogs but as I predicted, it was over in around 30 minutes. These dark pictures are taken at approx 5pm - sunset is around 8pm!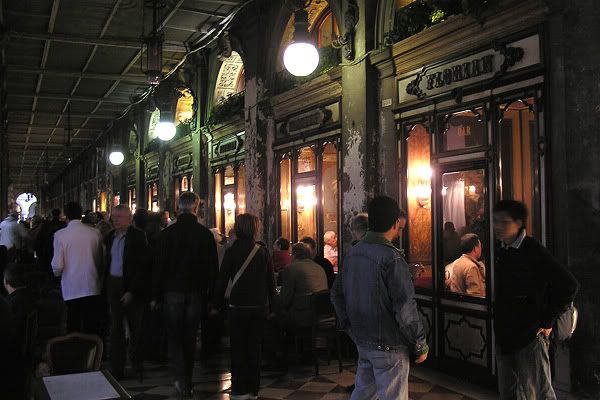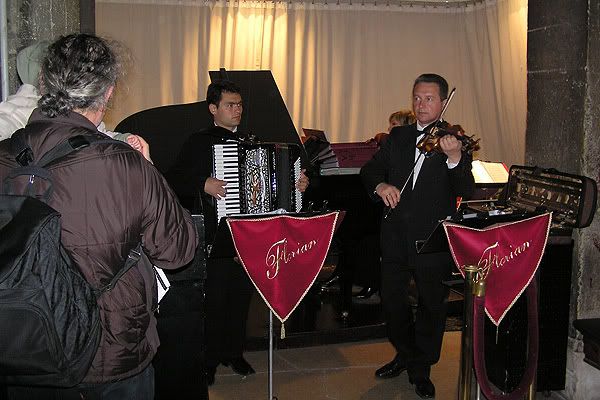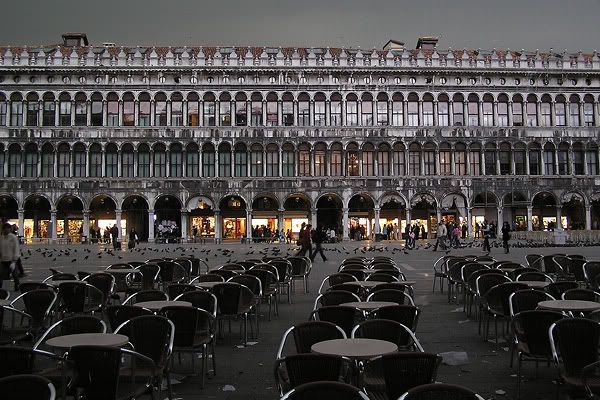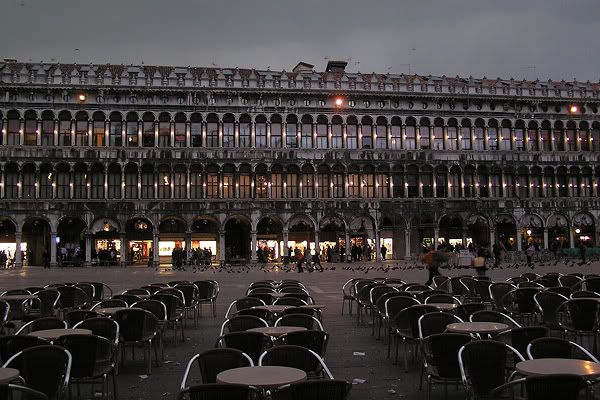 After the rain, it was almost time for the last boat back to Fusina at 6pm. However, we had just enough time to look for the landmark that I had spotted from the Campanile earlier that day. My map luckily had outlines of major buildings so I only had two possibilities, after doing directional and distance analysis. We soon managed to stumble upon the place. I learnt
on the spot
that it was called the
Palazzo Contarini del Bovolo!
Thank you very much ARIA, you're as good, if not better than any tourist book!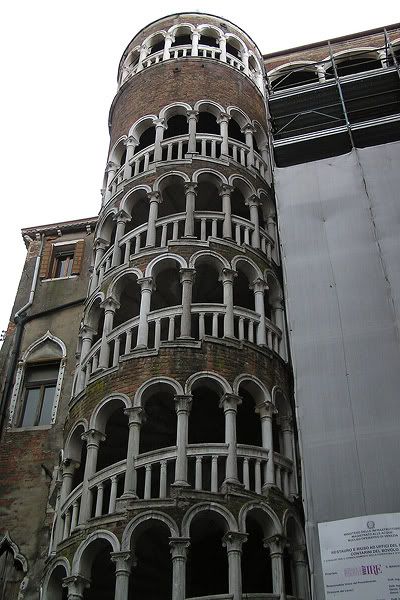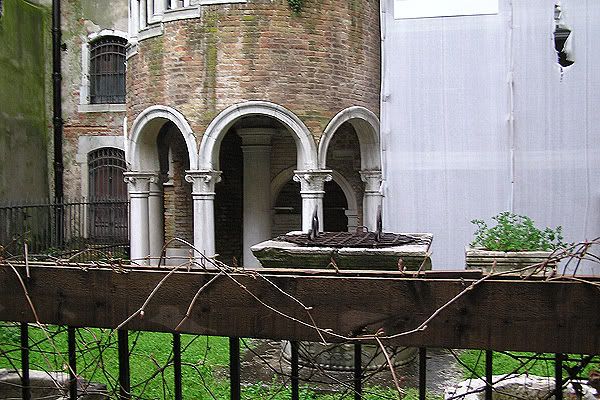 Then we really had to rush back to Zattere for the last boat back, but that didn't stop me from taking a picture of a leaning tower at a Campo!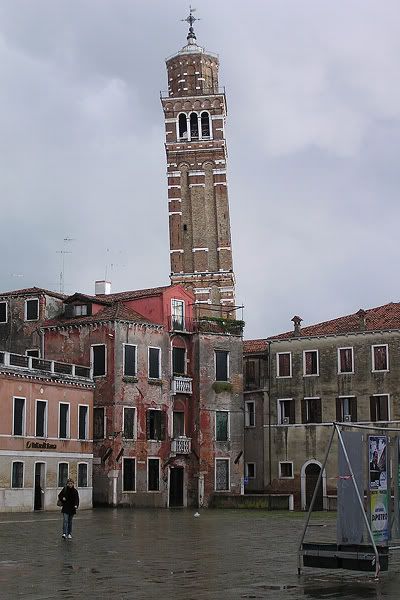 An absolutely fabulous Day 2, what a contrast from Day 1! I was extremely tired but very happy indeed - actually, indescribably happy!. The weather had been pleasantly cool and cooperative. The haze had compromised my pictures but it had also shielded us from direct sunlight. More sandwiches for dinner, before I slept at a relatively early 10:30pm. I had already planned the itenerary for Day 3 and all seemed good.