A rather scary-looking Akira from ARIA the Animation Episode 7. Aika has exceeded the speed limit (yet again). Her fear of her old habits doesn't go away as it is revisited at Origination ep11.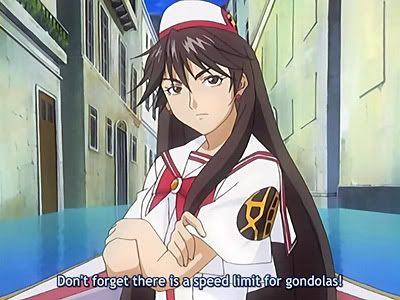 Now the canals of Venice and the channels all have various speed limits, depending on how close to land (or island) the navigation channel is. The small canals have a 5km/h speed limit which Aika exceeded.
I have also seen speed limits of 7, 11 and 20km/h and there are probably more. Here is Mona Lisa on a Vaporetto in a 20 zone!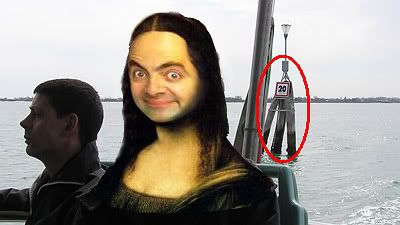 Why all these speed limits? Time for my trusty Lonely Planet book again.
The blatent disrespect of motorboat drivers for lagoon speed limits causes moto ondoso (wave motion), the damaging waves that eat away at Venice's buildings but also destroy the barene (mud banks) that help keep the lagoon alive. (Simonis 2008, p31)
Nor wonder the ever-great Akira-sama was mad! To be fair to Aika, a small motor boat doing 5km/h produces far more waves than a gondola. Vaporettos tend to respect these speed limits while private craft and the water taxis don't. My experiences:
1. A private craft left the navigation channel and cut
inside at high speed
of our boat while we were excecuting a 150 degree left turn at a "junction".
2. On my way to Burano, a water taxi overtook my Vaporetto at what must be twice our speed (we were at full cruise speed which would be the 20km/h limit).
There's more:
Giant cruise ships also cause wave damage. Huge sums are spent on preserving the barene - but little is done to bring the boat drivers to heel (Simonis 2008, p31).
The Norwegian Jade docked at Venice. This ship passes right in front of Piazza San Marco on the way in!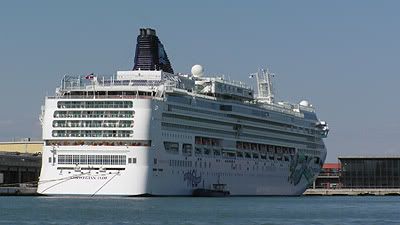 The Norwegian Jade is
huge
. I've been on the Norwegian
Spirit
which was massive - the Jade is even bigger, but to be fair the ship was being towed at walking speed meaning the Vaporettos were actually producing more waves!
Huge cruise ships (apart from creating problems for city foundations with massive waves) create an enormous problem with sulphur emissions that are literally eating away the city's stonework (Simonis 2008, p20)
More commonly known as Acid rain, but there is also "dry deposition".
Akira's little outburst in Animation therefore uncovers far deeper issues that the real Venice contends with. If you really love Venice, don't use a water taxi and don't arrive on a cruise ship!
BibliographySimmons, D.
(2008),
Venice & The Veneto: City Guide
, Lonely Planet Publications: London